We develop technology for data collection and its conversion into executable information for our customers. Our main activity is to develop, manufacture and operate unmanned systems that generate valuable information for agriculture.
01
We develop the technology of autonomous flight with full control, from the automatic pilot and aircraft design to the equipment and methodologies to operate.
02
The integration of high resolution professional multispectral sensors is key to collecting data on a large scale. We integrated technology to collect high resolution RGB and multispectral photography as well as sensors packets of other wavelengths (e.g. thermal)
03
The data collected is quickly processed in our servers due to our technology. In consequence, the information is available immediately for decision making. Our algorithms give added value to the information to solve specific problems of the clients.

The main objective of the information generated is to support human teams to take better choices.
Fuego volcano: A case study
On the 3rd of June, at noon, Fuego volcano triggered one of the deadliest tragedies of the recent history in Guatemala, with the report of 165 deaths and 260 missing persons (according to the official report of CONRED on August 6).
Due to the impact of the eruption, Aerobots planned a flight over the affected area on June 4 in the morning, as a sign of solidarity and support to the victims. The first aerial photography of the area was generated as well as the first digital elevation model. This information was available to authorities, rescue institutions as well as scientific community with the objective of generate the first analysis of the impacts of the eruption.

Operations Base
La Gomera, Escuintla, Guatemala
Headquarters
Vía 4 1-30 zona 4 Campus Tecnológico I #301
Guatemala, Guatemala
+502 2300-5656
info@aerobots.gt
Who we are?
We are a team of engineers and scientists.

Mechanic | Mechatronic | Aerospatial  | IT | Agronomy | Earth sciences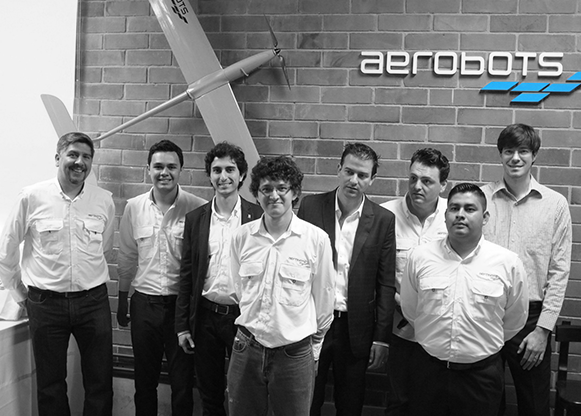 our costumers
"I have worked with Aerobots since 2016 on public health research projects using drones. Their team is insightful and effective and have helped us design creative solutions to our research needs. They are professional and efficient. "
"The work that Aerobots does in the agricultural area is significant, they are opening the field in an industry that needs these technological advances to face the challenges of climate change".
News feed
On the 21th of August Aerobots was invited to participate in the Mini-Workshop "Precision agriculture, efficiency in harvesting methods and its impacts on sugar production", as part of the XXI Congress of the Sugar Technicians Association of Honduras (ATAHON, as its acronym in Spanish).
Between the 6th and 10th of August, the AmeriGEOSS week 2018 was carried out in the National Institute of Space Research (INPE, by its acronym in Portuguese), Sao Paulo, Brazil.
During the last months, Aerobots has been promoting the use of autonomous aircraft for field supervision by means of 360 virtual reality (VR) flights.